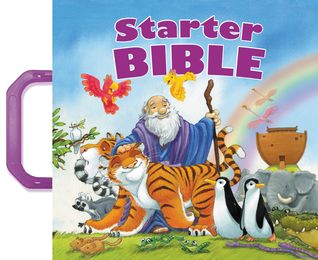 Start your children off well with their very first Bible.
This padded board book with a handle features some of the most popular stories from the Bible with bright art and kid-friendly text—all at a very affordable price.
Parents love introducing their favorite Bible stories to young children, and this book of Bible favorites is the perfect way to share these timeless stories with kids. This book features some of the most popular stories from the Bible with short text and bright art, perfect for little ones' attention spans. With a padded cover and a purple plastic carry-me handle, this book is easy for kids to take on the go. This low-priced book would make a wonderful gift for children and grandchildren!
Bible stories include: Adam and Eve, Noah's ark, Moses, Abraham, Joseph, Moses, Esther, Jonah, Jesus' birth, Jesus' miracles, death, and resurrection.
You can find this book on
Goodreads
.
I received a complimentary copy.
Cassandra's Review- I loved this little book, but my little ones loved it so much more. It has a built in handle and it is just adorable. Watching my family enjoy this faith based story book was so much fun and reading it to them was even greater. The illustrations are colorful and each story is super short so perfect for bedtime. The kids will enjoy carrying it around.