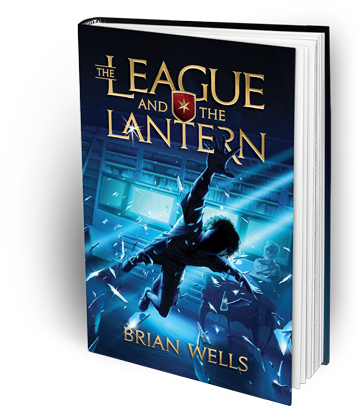 Synopsis:
The League and the Lantern is the first book in a new adventure series for middle-school readers. It all starts when a dangerous organization invades Jake Herndon's seventh-grade sleepover. He escapes along with two new classmates, Lucy and TJ, only to face a 48-hour fight for survival on the streets of Chicago. The kids unravel a mystery dating back to the Civil War, and an incredible secret about Jake's family. Along the way they learn unexpected lessons about courage, family and friendship.
Author: Brian Wells
A concerned dad who couldn't find quality entertainment for his kids. He has worked and produced 15 TV movies for the major networks, and this is his book debut plus the book inspires reading - Adventure series your kids will want to read.
Educational Value - 140 key vocabulary words hidden throughout the story, historic sites are part of the setting.
Moral Value - Lessons in family, friendship, mercy and compassion. Lead characters are friends who are different races.
Help Kids - Operates on a buy one - give one campaign to get books into the hands of kids who cannot afford their own copies.
Books are available for purchase at
LeagueAndLantern.com
Cassandra's Review- As an adult I found this to be a great read so I know that this book is not only excellent for middle graders but any age. It is clean, fun and family friendly which I really enjoy and I was able to read it outloud to my family without having to skip parts. It has a good dose of knowledge added to a very well written mystery. I look forward to more books from this author.
"Disclosure (in accordance with the FTC's 16 CFR, Part 255: "Guides Concerning the Use of Endorsements and Testimonials in Advertising"): Many thanks to Propeller Consulting, LLC for providing this prize for the giveaway. Choice of winners and opinions are 100% my own and NOT influenced by monetary compensation. I did receive a sample of the product in exchange for this review and post.
Only one entrant per mailing address, per giveaway. If you have won a prize from our sponsor Propeller / FlyBy Promotions in the last 30 days, you are not eligible to win. Or if you have won the same prize on another blog, you are not eligible to win it again. Winner is subject to eligibility verification."