Text and Photography by David FitzSimmons
Amazing animals – from a beautiful butterfly to a crabby crayfish – posed for portraits. Good thing photographer and writer David FitzSimmons jotted down what the pink katydid, jabbering jay, poetic opossum, and other Curious Critters had to say! (Juvenile/Nonfiction: Animals/Science & Nature • Ages 2 to 8 • ISBN 978-1-936607-69-3 • 32 pages • 11 x 9.5 • $19.95)
Five National Book Awards:
2012 IBPA Bill Fisher Award for Best First Book (Children's/Young Adult)
2012 Nautilus Silver Book Award (Children's Nonfiction, Grades 1-6)
2011 Moonbeam Children's Book Awards, Silver (Non-Fiction - Picture Book)
2012 Skipping Stones Honor Award (Nature and Ecology Books)
2012 Publishers West Book Design Awards, Bronze (Children's/YA Illustrated)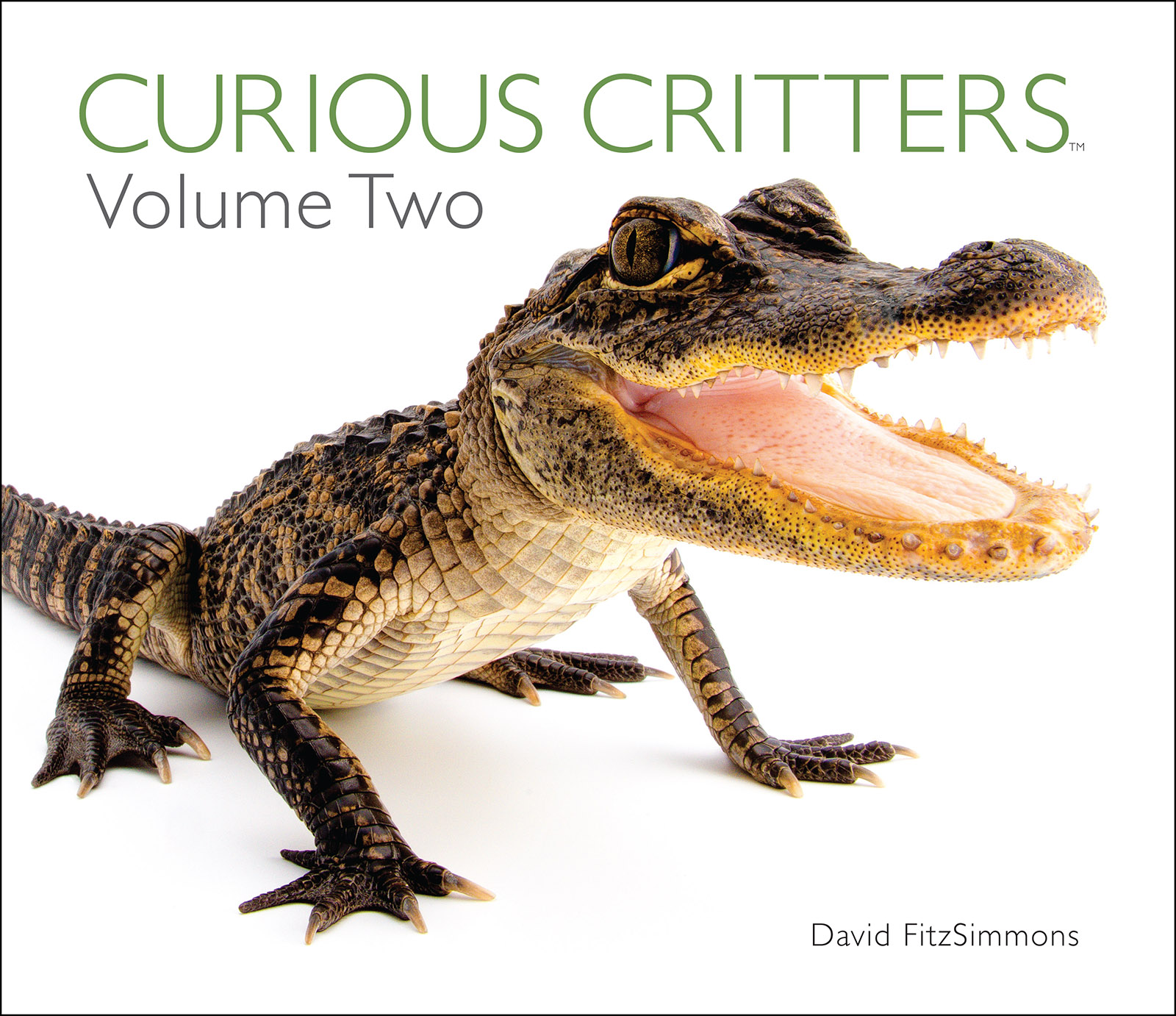 Award-winning author and photographer David FitzSimmons has a unique
approach to animal portraiture, and he loves sharing it with kids. Instead of
seeking rare animals in exotic locations, David photographs common animals
—many found in your own backyard—against plain, white backgrounds,
producing detailed close-up images that are simply striking. These images
are the visual foundation of his "Curious Critters" children's picture books.
Volume one won five national book awards. Volume Two will be released in
February.
FitzSimmons' unconventional approach allows animals' colors, textures,
shapes, and "personalities" to shine through. "Kids focus on the animals.
That's when the learning begins," David explains. "They focus on and notice
clues about animals' behaviors, diets, life cycles, and habitats."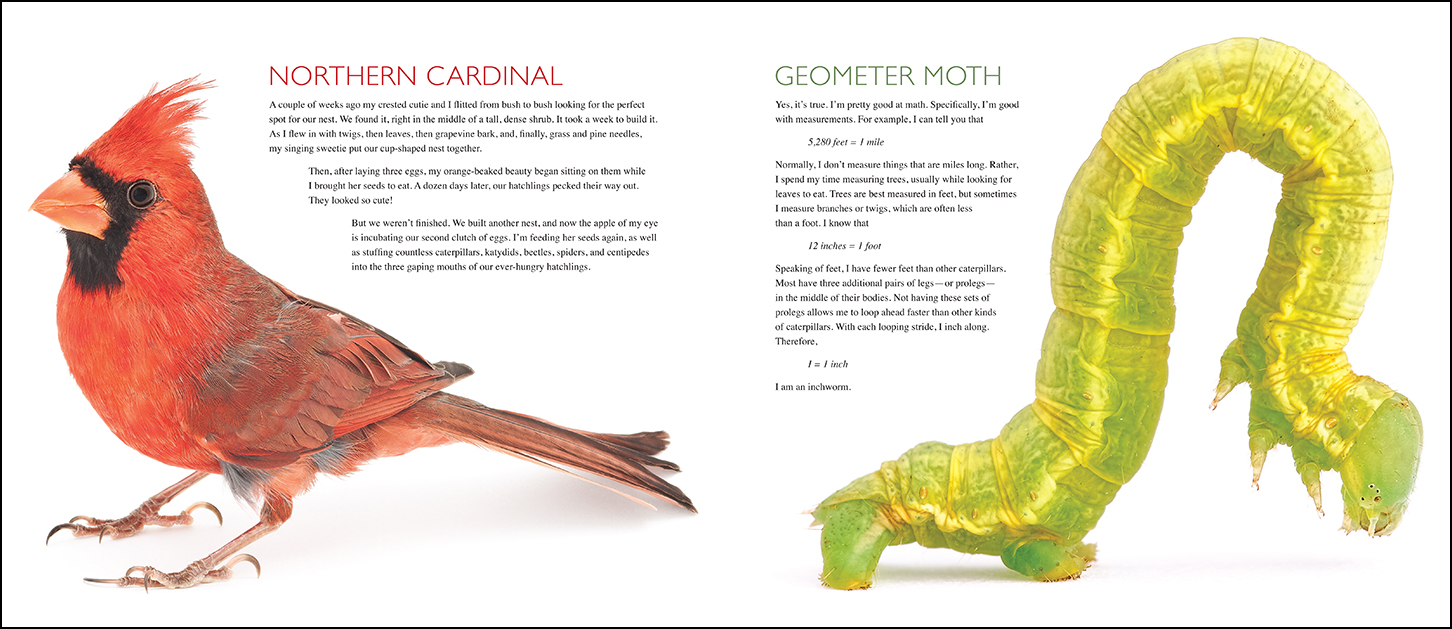 Besides the extraordinary photography, each of the twenty animals in
"Curious Critters Volume Two" gets a chance to tell its story. Take, for
example, the proud papa Northern cardinal, who explains how he and his
"crested cutie" built their nest:
As I flew in with twigs, then leaves, then grapevine bark, and, finally,
grass and pine needles, my singing sweetie put our cup-shaped nest
Then, after laying three eggs, my orange-beaked beauty began sitting
on our eggs while I brought her seeds to eat. A dozen days later, our
hatchlings pecked their way out. They looked so cute!
The second volume of Curious Critters also includes the airline pilot monarch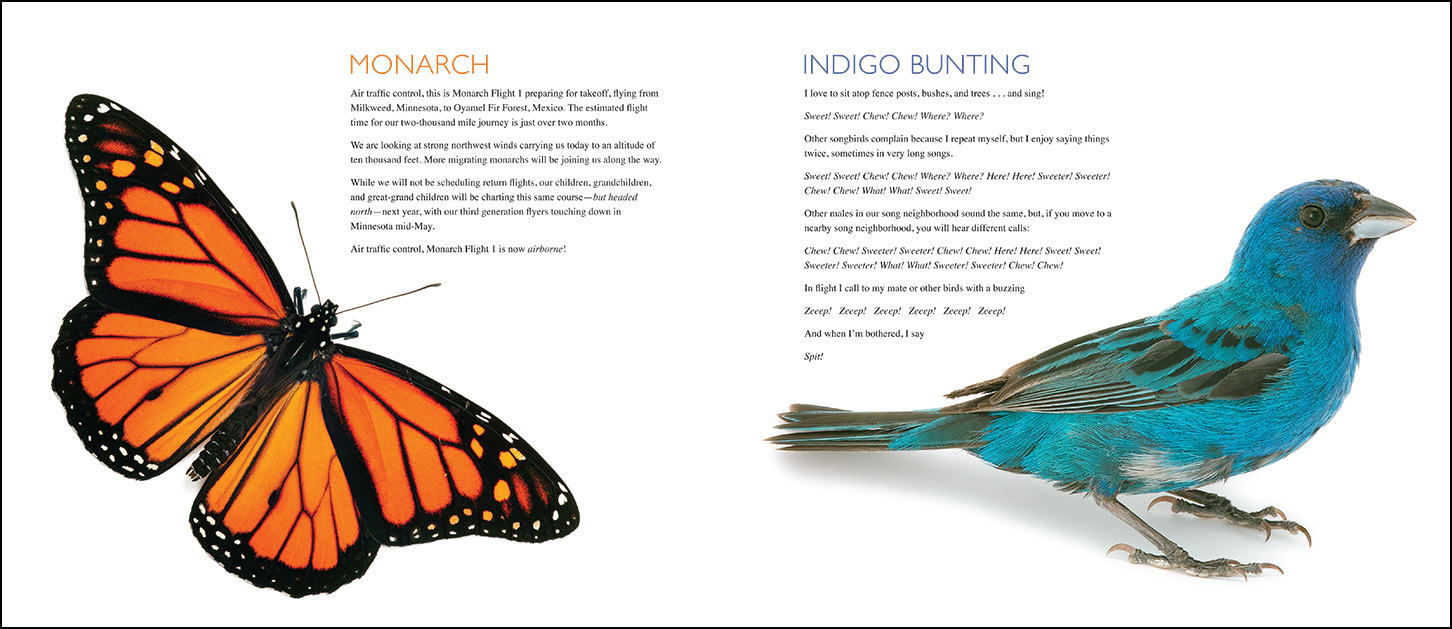 Air traffic control, this is Monarch Flight 1 preparing for takeoff, flying
from Milkweed, Minnesota, to Oyamel Fir Forest, Mexico. The estimated
flight time for our two-thousand mile journey is just over two months.
Then there's the buccaneer bluegill, who's the pirate of the pond:
Ahoy! Call me Cap'n Bluegill. I ply these waters looking for good eatin'.
Me tall, flat body and me ruthless rigging—you know, me fearsome fins
—allow me to sail smartly and steer sharply. If a snail, a worm, or a
dragonfly larva dares to dally in me waters, I chase 'em down, then
Other characters include the muscle-bound green frog with an East-coast
accent, the American Kestrel with his high dive circus act, the sidewinder
magician, and the leucistic gray squirrel, who grows weary of people thinking
that her white color means she's an albino.
Of all the characters, however, children may delight most in the four Eastern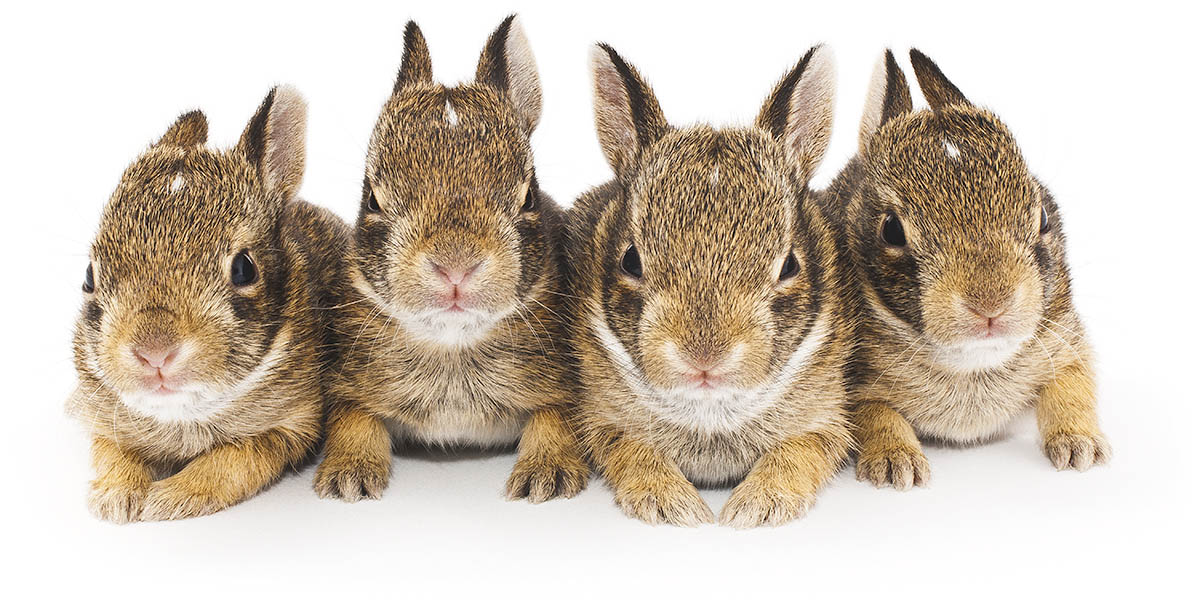 As cute as the bunnies are, their childlike conversation about coprophagy—
yes, rabbits eat their own poop!—is sure to have children and parents
You mean we eat our own . . . feces?!
I did. That's what I heard.
Yep. By eating grasses twice, we get more nutrients the second time
through. All rabbits do it. What's wrong with that?
"Curious Critters Volume Two" is filled with other fascinating fauna, including
a beautiful butterfly, a Spanish-speaking armadillo, a mathematical moth, a
bellowing alligator, a back flipping beetle, and other amazing animals.
The second book in the series is not only entertaining but also educational.
Before David began composing the short vignettes accompanying each
photo, he reviewed national science education standards. "Curious Critters
Volume Two" meets all the National Research Council's life science
standards for grades K-4.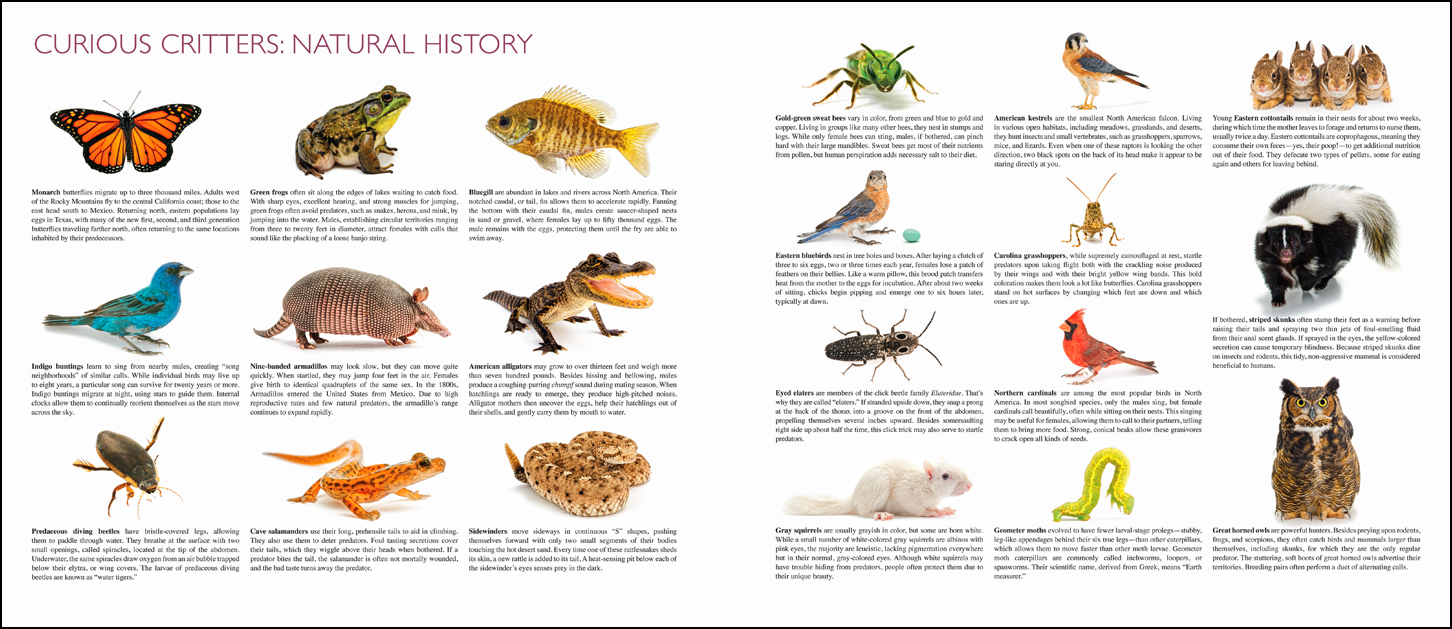 The picture book also features additional natural history information for each
Critter and a two-page spread of life-size silhouettes, where readers are
asked to identify the animals, find one whose shape has changed, test
geometry skills in looking for reversed silhouettes, and figure out what the
various colors represent. The book also includes a glossary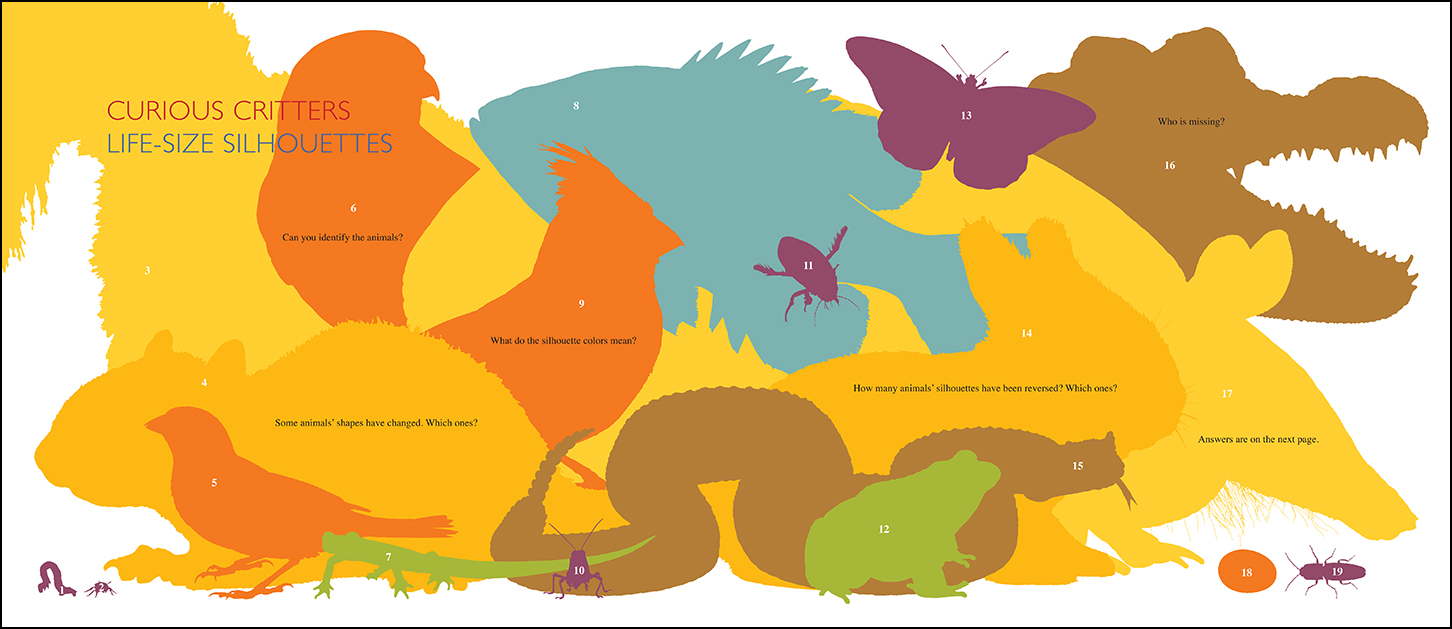 New! Curious Critters Audiobooks
Audiences, thrilled with author David FitzSimmons dramatically reading
Curious Critter character voices at book events and school visits, have been
calling for recordings of the book's voices. So, simultaneous with the release
of "Curious Critters Volume Two," Wild Iris Publishing will be releasing
audiobooks for "Curious Critters Volume One" and "Curious Critters Volume
Two." In writing the "Curious Critters" books, David imagined that each critter
talked to him during its portrait session and that he was just writing down
what was said. Both audiobooks capture the sometimes calm, other times
excited, and occasionally irascible personalities David envisioned. Calling
upon a stable of diverse and animated voiceover talent, the two audiobooks
bring forty-one animals to life.
Highlights include the Richard Simmons wannabe gold green sweat bee, who
likes sweat...but only when she gets to lick your sweat; the bench pressing
green frog who just came out of a Boston gym and sits by the edge of the
pond to sing to the "froggie girls;" and the eyed elater, who, amidst constant
No beetle's jump is greater.
If on my back I've landed,
and upside down seem stranded,
I bend my back way under,
then click as loud as thunder.
These and many other delightful sound effects provide fun, natural sounds
that contextualize the animals: water swishes when the Eastern spiny
softshell turtle climbs onto a log; the sidewinder rattles his tail before and
after his disappearing magic act; and a wood block provides the acoustic
punch line to the knock, knock joke of the baby Eastern bluebird, ready to
emerge from her beautiful blue egg.
Perhaps most endearing of all are the young talent who give voice to juvenile
Curious Critters in both volumes, such as the cute-as-a-button baby bluebird
and the not-quite-ready-to-fly red-eyed vireo fledgling.
The character voices reach their pinnacle in the volume two audiobook when
four bunnies discuss mom leaving them all alone while she "goes out to eat,"
puzzle over running all "zig-zaggy weird," and act dismayed over eating their
own "feces" to provide more nutrition the second time through: "Eeew!
That's disgusting!" Four young girls, ages 3 to 9, bring with their voices
heartfelt charm!
Rounding out the soundscape of both audiobooks is the upbeat singing of
nature-folk singer Foster Brown, who plays the part of the singing spotted
salamander and the warbling diving beetle. And beginning and ending both
audiobooks is Foster's catchy "Curious Critters" theme song, rich with the
bluegrass sounds of a guitar, banjo, mandolin, and upright bass:
Curious Critters all around,
in forests to farms and in our town.
With beaks, scales, wings, and paws,
feathers, fur and teeth and claws,
some hop and crawl or walk or swim,
fly or glide or slither in.
Curious Critters to be found.
Come listen in. Come gather 'round.
The Curious Critter's web site, www.curious-critters.com, has additional
resources, including puzzles, coloring pages, e-cards, teacher aids, and
stories about the making of the books.
David hopes that his "Curious Critters" books will inspire children and adults
to conserve nature. "To protect our natural world, we first have to care about
it. I hope that my animal pictures allow people to see common animals—from
frogs and squirrels to caterpillars and katydids—in a whole new and
meaningful way. I hope the photography captivates and inspires people."
Curious Critters volume one, which has sold over 100,000 copies to-date,
won five national book awards, including the IBPA's coveted Bill Fisher award
for Best First Book (2012).
More amazing animals coming soon!
In "Curious Critters: Marine," meet fish, birds, crustaceans and other animals
from the Atlantic and Pacific oceans, as well as the Gulf of Mexico. Hear what
the black sea bass, candy stripe shrimp, pencil urchin, California sea slug,
horseshoe crab, blue lobster, and other seaworthy Curious Critters had to
say! Available Fall 2014.

CURIOUS CRITTERS Volume Two is now available! Following 100,000 copies sold of the CURIOUS CRITTERS Volume One, the sequel features a mathematical moth, buccaneer bluegill, bilingual armadillo, and many more amazing animals. Sample pages at

www.curious-critters.com


AUDIOBOOKS of Curious Critters Volumes One & Two are now available. Hear samples at

www.wildirispublishing.com

Check out David's SIGMA Pro blog: tips, techniques, and more...David's blog




David FitzSimmons

is a free-lance photographer and writer as well as a university professor. David photographs and writes for various magazines, including Outdoor Photographer, Popular Photography, and Shutterbug, newspapers, and online publications. His 100+ calendar credits include numerous titles by BrownTrout and Barnes & Noble. Dave currently is at work on a handful of books. His most recent books include Animals of Ohio's Ponds and Vernal Pools (Kent State UP) and Curious Critters (Wild Iris, September 2011).

One of five Sigma Pro photographers in North America, David presents seminars and workshops to a wide variety of audiences, from public school groups and college classes to nature centers and civic organizations. His works have been exhibited at the Roger Tory Peterson Institute and the National Center for Nature Photography, and the Telluride Photo Festival, among other venues.

David, a former high school English teacher, has been teaching for 20 years. He is a professor at Ashland University, Ashland, Ohio. He holds a Ph.D. in English from Ohio State University, with a specialty in narrative theory--investigating the components of storytelling--something that influences his photography and writing.

Dave was inspired to photograph and write about nature by his parents, Mick and Judy FitzSimmons, active environmentalists and life-long teachers, and he is assisted in his natural history endeavors by his wife, Olivia, a naturalist, and his two daughters, Sarah and Phoebe.
Cassandra's Review- A grand slam of a series that has hit its mark 100% . My whole family and friends enjoyed sharing the books and listening to the audio books. The music is groovy and the information is jammed packed. My favorite part are the pictures because they are SO beautiful and make me feel like I am visiting with each image. I would recommend for teachers and parents to enjoy with the special kids in their lives!
I received one or more products mentioned above for free.